Technical introduction
The expertise of we Yamada Seisakusho is nonmetal resin press. I published it in the product introduction, but get the trust of many visitors from the specificity of the field. It is in particular a die to become the technical pivot. We produce the die in-house. I deal with various materials, and the technique that I cultivated in the past is included in the small die thoroughly so far.
As I am good at the Thompson type press who is available for a half cut of the adhesive tape, processing by the low cost other than the processing with the die, I cope for the request of various visitors flexibly.
When you have a problem with the processing of the nonmetallic material, please talk. Even as to delivery date, cost produces a product to be satisfied with.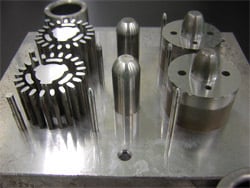 Our die challenges materials said to have difficulty in processing using the original manufacturing method.
In addition, past experience and enormous data become the source of our power to answer in the wide needs of the visitor.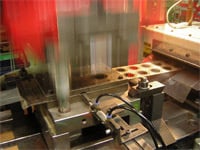 As our press to hold becomes to 80t from 25t, I am good at the punching of the accessory product.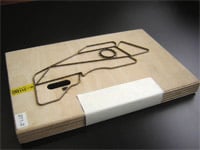 It is a Thompson type. Unlike a die, I cope on low cost, short delivery date. I am suitable for the punching of the films sheet such as the PP.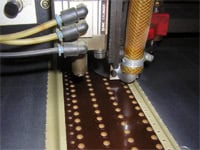 The hole having difficulty in processing with the die makes a hole using an NC drilling machine. I punch outer diameter with a die afterwards.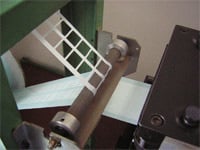 The half cut is suitable for the punching of the film sheet with an adhesive. The finished product after the punching becomes roll.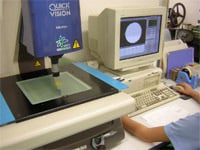 It is our measuring equipment. For the severe demand of the visitor, I manage the quality with stern eyes.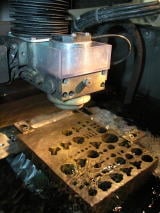 It is our wire cut machine. Rake an electric current to copper wire to make a die having high precision and I let you discharge electricity and customize it.